As I own quite a couple of Apple things, I was looking for a solution to charge all things with little effort and without having too much cables laying around.
I found this wireless charging station from SIMPFUN which let me charge my iPhone, my Apple Watch and my Airpods at the same time with only needing one cable. You can get it in three different colours: White, Grey and Black. An USB-C adapter is also included, so you do not need anything else to charge all devices.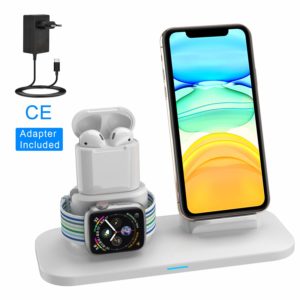 Phone and watch will be charged wireless and for the Airpods there is a Lightning connector at the top where you just put the the Airpod case on.
You can use the nightstand mode of your Apple watch during charging so that you can use it as alarm clock as well.
The only weak point I found so far: The charging station does have a small blue light while charging, which I find too bright in the night. So I put a small sticky tape over it. It is still slightly visible because it does shine through the bottom of the stand but it is no longer disturbing in the night.
For travelling I also found a solution to charge all three devices at the same time with only one cable, the Saiwill 3 in 1 Cable. It gives me two lighting cables for iPhone, Airpods or iPad and also a cable to charge the Apple Watch. On the other side there is one USB-A connector.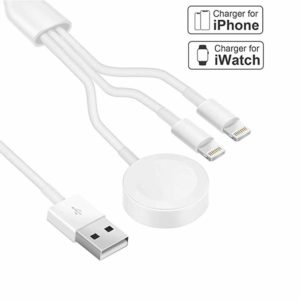 So I do only need one cable and a charger like e.g. the Equinux Tizi Tankstelle to charge all my devices while I am travelling.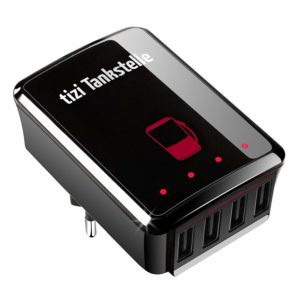 By the way: If you do also have additional devices which need to be charged via USB-C or Micro-USB, I can recommend the Equinux tizi Schlitzohr which is a combined USB-C, Lightning and Micro-USB cable with an USB-A connector at the other end.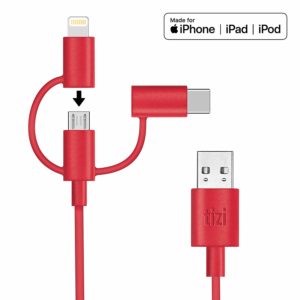 One more thing: If you charge your phones sometimes on public charging stations like e.g. at airports I recommend to use this adapter on your cable.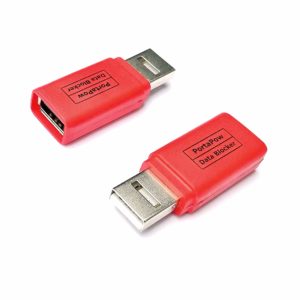 This adapter will prevent your device to switch to data transfer mode, so you won't risk data theft or computer viruses if you charge your device at a foreign USB port e.g. at an airport etc.
Two Gadgets for Apple Users